ALL NEW - IPHONE 11 ICLOUD Bypass - 2021
ICLOUD UNLOCK WITHOUT APPLE ID / PASSWORD
This article will throw light on the guidelines as to how to iPhone 11 iCloud Bypass on different devices iPad, apple watches, iPhone, and iPod Touch. To know more about how to easily activate the iCloud activation lock on Apple devices when you don't have one Apple password and id you will have to scroll through the article to know more. Let's quickly dive into the topic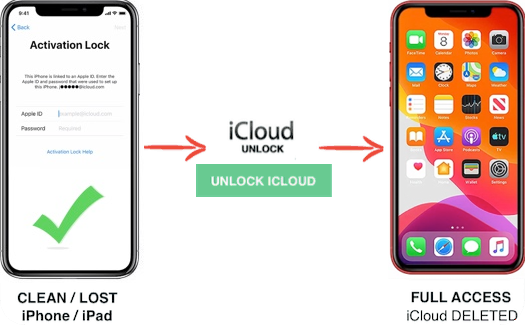 iPhone 11 iCloud Bypass can be done in no time as this article will give you proper guidelines in activating the locking system. Some people might have bought a used iPad, iPod, or Apple watch as it's very expensive. In such a situation the device keeps asking for the previous owner's password and ID. This typically means that your device activation is locked to the previous owners' iCloud account which stops you from accessing until you create a password for yourself.
There is nothing to do with the carrier because this is a security system of the device and it comes along with the feature of Apple. Different types of techniques to fix this problem. Scroll through the article to know more about how to remove the iCloud lock.
As you know iCloud unlocking has got harder with every new iOS update.
Our IMEI/SN based iCloud Bypass Method works with any iPhone and iPad model!
For iPhone ( 5S, SE, 6, 6S, 7, 8, X, XR, XS, 11, 12) Apple Watch and iPad ( All models ) models, there is a server-based solution iPhone 11 iCloud Bypass that works for every Apple device.
All unlocks are final and will not re-lock in the future (Permanent Unlock). Users are able to Restore their devices without iCloud lock.
Here is iCloud Unlock Service for iPhone / iPad / iWatch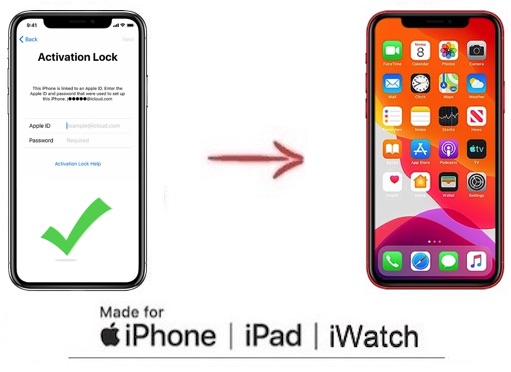 Rating: 4.8 / 5.0 (1338 unlocks)
We are here for you, 24/7, to help you and reply within the hour.
How to remove the iCloud lock?
There are people for might have tried the device to the local stores to solve this issue. There are instances where people try to change their Apple id through online mode but it is mostly confusing and has conflicting information.
The good thing is that there are suppliers out there in the market who offer good service on lock removal of activated iCloud.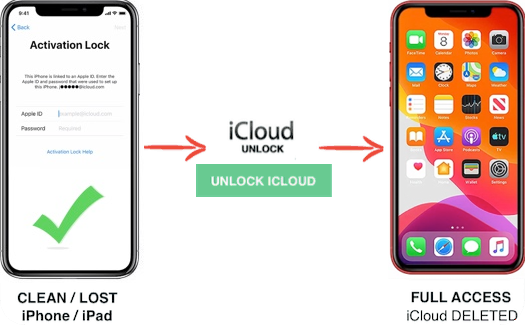 Steps to remove iCloud activation lock
Two techniques can be followed:
Purchase software that helps you to hack your device to unlock your iCloud. You might have to pay a certain amount to iPhone 11 iCloud Bypass
You can get past the settings on your device especially your security settings by using 'DNS bypass'.
You can remove the account of the previous owners' iCloud without paying a single penny from your pocket which is free. Here are few steps to remove your iCloud account for free.
Step 1: You can search on Google as to how to remove the iCloud account for free and you will see so many suppliers out there in the market who will help you unlock your eyes cloud account for free.
Step 2: Some of the websites look genuine and convincing with the will of you a very good service. But you'll have to be very careful sometimes because there are a lot of scams that do not work properly.
Step 3: Be very careful when you try this because most of them might just be scams. It is always better to go for trusted websites how to unlock your iCloud account for free.
There also ways where you can pay any trustworthy company and remove your iCloud lock.
It is also better to go unlock your iCloud lock with a trustworthy company which you might feel secured. Once the process is completed then you will be able to have your device without being asked for the Apple password and ID of the previous owner.
Pros of paying to unlock your iCloud
You will be able to access your device with ease
You will be able to restore all the features and functions of your Apple device
The issue is being fixed permanently and there is no need to do it again
After you have successfully and locked the iCloud you will be able to work on all your Apple devices including iPad and iPhone
It becomes easy for you to use daily
Cons of paying to unlock your iCloud
There are plenty of scammers who offer this type of service. It is important to ensure don't get caught in the hands of fraudulent companies to get your device iCloud unlocked.
You might have to pay a huge sum of money to unlock your iCloud and it is not for free.
The process might take few days to get completed till then you won't be able to use your Apple devices. It is a time-consuming process.
 
Here is another method that you can try to remove your iPhone 11 iCloud Bypass:
Step 1: Every device has a unique ID and you will have to find out what that unique ID is device unlocked. It is a very simple process. All you have to do is first know your IMEI iPhone number that is available on your SIM card.
It is easy to find your IMEI number which is available on the following devices:
iPhone 12 Pro 
iPhone 12 Pro Max 
iPhone 11
iPhone XS
iPhone XS Max
iPhone 12 Mini
iPhone 8
iPhone X 
iPhone 7 
iPhone 6S 
iPhone 8Plus 
iPhone 3G 
iPhone 3S
Some of the Apple devices have the IMEI number on the back and here are few devices in which the IMEI number is found on the back:
iPad (Wi-Fi+ cellular models) 
iPad (Wi-Fi + Cellular models) 
iPhone 6 
iPod Touch 
iPhone SE 
iPhone 5C 
iPhone 5 
iPhone 5S

If you want to get away with Apple watch lock activation then you will have to provide the serial number or IMEI number. The serial number will be there on the first generation apple watch which will be engraved at the backside of the case.
Step 2: Discover the Apple model device that you want to unlock.
Step 3: Select a trusted supplier. It is important to select a trustworthy supplier to get the work done properly.
When we hear the word apple the first thing that comes to mind is the complicated locking system. It is considered to be a nightmare for some people. There is nothing to worry about because the above-mentioned guidelines will help you solve the issue easily.