iCloud Remover Online Free from iPhone or iPad. All models supported
Starting with iOS 7 Free iCloud unlock, deleting an iCloud account or restoring a device requires Find My iPhone to be disabled. Find My iPhone, in turn, requires the user to enter the password for the Apple ID attached to the iCloud account. This system ensures that phone thieves can't remove the account and avoid being tracked through the Find My iPhone website.
Unfortunately, there's a pretty easy way to bypass this requirement, as demonstrated in the video above. To do so, you first need to tap both "delete account" and the switch to disable Find My iPhone at the same time in the iCloud settings panel. That's actually the hardest part of the entire process. When prompted for a password, hold down the power button and shut down the phone.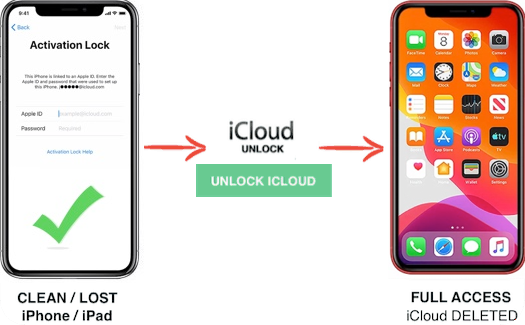 When you restart the phone, you'll be able to go into the iCloud settings panel and remove the account without being prompted for your password. After that you can plug the phone into iTunes and restore it with no problem. Not only that, but because iCloud Remover Online Free requires Find My iPhone to be enabled, that feature won't kick in after the phone is restored.
In short, whoever has your phone has just bypassed every possible method you had at your disposal to locate it again. The good news? Putting a passcode on your phone (especially with a short timer) prevents anyone from getting into the iCloud settings at all.
NB! This free method works only for Apple devices that have iOS 7 installed.
How Can You Get iCloud Remover Online?
Do you have an iPhone? Then you must have noticed that Apple has its security system that's known as iCloud Activation. This security system is available on all iOS and this application was created to prevent stolen phones and pads from getting used by people who aren't the actual original owners.
But what if you are buying a second-hand iPhone 8? Then you will need to learn how to carry out iCloud Remover Online Free so that you can use the phone. So here we will show you a free method that will allow you to unlock your Apple iPhone and use it. But first, let's know a little more about this anti-theft feature.
How does Apple prevent your iPhone from getting stolen?
Before we tell you the process to unlock iCloud, you need to know that the lock work with a tool called "Find My iPhone" that will let the owner locate their missing phone. All it will do is show your phone's location right on a proper map so that you can track it down. This feature is enabled by the company on all iOS devices so it's a default functionality that protects people.
Apple also advises users against removing the lock. However, as said above, if you are getting a second-hand iPhone or perhaps if you want to set up your device, then these tools will be a barrier in properly customizing your phone.
How can you remove the iCloud lock from iPhone?
Here we will tell you how can get rid of that lock and use your phone just like you want. This entire process is legal as well as free. So read on below:
First, you need to check if the phone you have is a stolen one. If you buy a second-hand phone, then there could be an iCloud Remover Online Free on it. This happens because the previous owner has forgotten to get rid of the "Find My Phone" feature on it.
However, sometimes the owners didn't forget to get rid of the lock and instead the phone got stolen from them. As such the owner didn't get an opportunity for getting rid of it.
But if it's not stolen, then you can ask the seller or Apple itself for removing the lock. Now, there are some circumstances under which Apple will get rid of the lock, but you will have to show proof of actual ownership like the very first original buying receipt.
Not only this, but you will also have to show that ownership got transferred to you by the previous iPhone owners. For this, you should print the entire transaction and payment confirmations.
Keep in mind that Apple's customer service will ask for 100% proof that the phone belongs to you. If you can't prove it to their satisfaction then they won't help you.
For all other iPhone/iPads that have iOS 8, 9, 10, 11, 12, 13 or 14 then you use
iCloud Remover Online Free server-based 65% unlock method that unlocks all other models.


Price – $15 (0-2 days)
Unlock process is done with server-based method. IMEI or SN code is needed.