Unlock iPhone with Apple ID
1.    Bypassing iCloud Activation Lock on iPad or iPhone With Credentials
First, if you were successful at getting the previous owner's Apple credentials, regaining access to your device is straightforward.
Below are the steps for unlocking the device, and they work for both iPad and iPhone.
Turn on your iPhone/ iPad. The moment you get the Activation Lock screen display, all you need is to enter the Apple ID and password, and you are in!
Remember, when you get into your device successfully, make disabling the Activation lock your priority.
For Disabling the Lock
If you are running on iOS 10.3 and later:
Go to Settings, press the username showing at the screen's top (displaying the authorized user's identity), and then sign out.
Re-enter the password and press "Turn Off."
On an older device:
Go to Settings, press "iCloud," and then select "Sign Out."
Enter the password like before and select "Delete from My iPhone."
It is important to sign out from the Cloud to reset your iPad/iPhone.
Resetting the Device
Resetting is necessary after gaining access because you want to start new and ensure your device has everything according to your choices.
Go to General and press Reset
Choose "Erase All Content and Settings"
As your device resets and restarts, you now have a brand new device with the factory settings and no Activation lock hassle. You can now enjoy using it freely. However, bypassing the Activation lock without the credentials can pose challenges.
2.    Getting Help from Apple
Now comes the option of consulting Apple directly and telling them about your issue.  You can have Apple bypass the Activation Lock for you to allow you access to the device.  If you failed to Unlock iPhone with Apple ID and password or could not contact the previous owner, it limits your options.
Unlock iPhone with Apple ID the device, but there are some conditions:
You must have the proof showing you as the legal owner of the device you want to unlock.
It can be an email confirming the original owner's transference ownership or a receipt.
The proof must be legit and binding.
With that in your arsenal, contact Apple, show them the proof, and explain the problem. They will respond to your concern and assist you.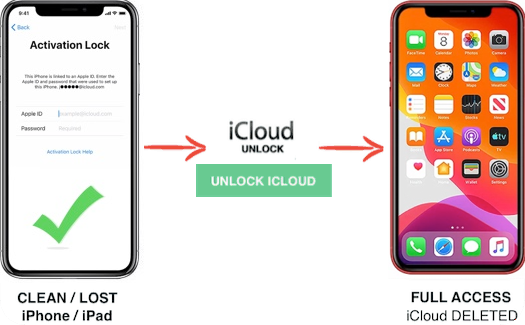 Determine yourself if your iPhone is stolen or not
Before you take your phone to a local Apple service store, you can determine if you are unlocking a stolen phone or one that was sold by the actual owner. Performing a personal check will help prevent a lot of hassle in case the phone turns out to be stolen.
To know if you have a stolen phone you need to use a website that's called Stolen Phone-Checker. All you have to do on this website is put in the MEID/ESN/IMEI number of the phone in there to find out the proper cellular location of the phone. Know that your phone gets confirmed as stolen, then Apple won't help you and the seller will probably not either.
Use software to Unlock iPhone with Apple ID
Know that multiple apps will help you bypass the security functionalities of iCloud. Now, most of these services will need you to pay for them, but some sites offer trials of up to 5 options. So you need to download and then install the trial version on your Mac computer.
However, do keep in mind that it's unlikely the bypass service (Unlock iPhone with Apple ID) will allow you to unlock the entire phone without purchasing the license. So if you want to use your bought device, you will have to pay for the software.
So now, if you have software that's installed on your phone, then select the 'unlock function of Apple ID' option or anything similar given. After that, you should attach your device to the Apple computer by a data cable. 
If your phone is indeed fully compatible then the given Apple ID, as well as password, will get removed by the software you have chosen.
Is there any other way to remove the iCloud lock? 
There is another way you can carry out this unlock. But for that, you will have to do an iCloud DNS full bypass and then you will get some sort of functionality back. However, note that this isn't a permanent solution instead it's just a workaround.
You will have to do this every time you attempt to reboot your iPhone. However, that's not all. If you use this method, then you won't be able to make calls, use iPhone without wifi, download the Apple Apps you want, and more. This is an option that will be right for you if nothing else is working.
To carry out iCloud iPhone full bypass you will need unlocker software. Just download any of the ones available and then follow the instruction given there to bypass your phone.
These steps will help you get rid of the security feature and then use your phone. However, if you have a stolen phone, then it's advised that you contact a police station and report the theft. Also, if you have paid for your second-hand iPhone with PayPal or such then you can get the money to the stolen phone refunded to you. 
For all other iPhone/iPads that have iOS 8, 9, 10, 11, 12, 13 or 14 then you use
iCloud Remover Online Free server-based 65% unlock method that unlocks all other models.


Price – $15 (0-2 days)
Unlock process is done with server-based method. IMEI or SN code is needed.